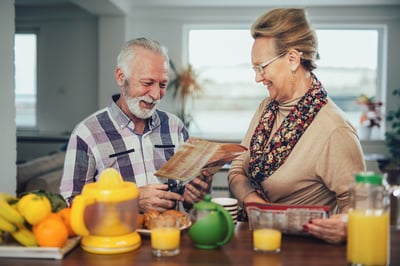 A life without meaningful activities is an unfulfilling life. From daily household chores to hobbies, activities give the day structure while simultaneously defining who we are. For seniors living with dementia, an inability to participate in previously enjoyable, purposeful activities can cause restlessness and depression. But though the physical capabilities of dementia patients will decline, it's still possible to provide them with meaningful everyday activities.
Let's take a closer look at the importance of meaningful activities for seniors with dementia, along with nine simple, inexpensive experiences caregivers can try with their patients.
Why Meaning Matters
Seniors with Alzheimer's disease and other forms of dementia often suffer from boredom and restlessness. Introducing meaningful daily activities into their lives does more than keep them busy. It also helps them stay connected to the people and world around them. Activities can calm seniors' anxiety, give them a sense of control, and reduce troublesome behaviors such as wandering. Even simple tasks restore normalcy and purpose, a combination that goes far in preventing loneliness, despair, and suicidal thoughts.
When caretakers are able to provide meaningful activities for seniors with dementia, it boosts feelings of self-worth, individuality, and purpose.
Nine Meaningful Activities for People With Dementia
Free paint swatches are available at your local hardware store in an extensive range of colors, shapes, sizes, and even textures. Depending on the progression of your loved one's or patient's disease, they can use these samples for a variety of activities:
Manipulating the swatches with their hands

Arranging the swatches into stacks

Matching similar swatches to create color palettes
Many people have fond childhood memories of looking through a relative's jewelry box. Seniors with dementia often enjoy exploring jewelry boxes too. Some might simply rifle through the box, while others enjoy organizing it.
Keep in mind that this task can be overwhelming or confusing for some dementia patients. Factor in your aging loved one's or patient's capabilities when setting up this task.
Researchers are still discovering the benefits of Montessori-based methods for dementia patients. Working with household objects helps some seniors stay connected to their surroundings. Silverware-related activities can include everything from sorting and rearranging the silverware drawer to washing and polishing forks and spoons. The complexity of the task relies on the progression of the individual's disease.
PVC pipe fittings can be manipulated in a number of ways. Depending on your loved one's or patient's abilities, they can take them in and out of the bag, screw pieces together, or sort similar fittings. Seniors with dementia often find this work fulfilling.
Since blocks might seem like children's toys, Tupperware offers a similar experience with an age-appropriate twist. Food storage containers are a terrific way to engage people with dementia. Higher-functioning seniors can take lids on and off, then sort and stack Tupperware pieces. Seniors with progressed dementia might simply hold and feel the containers.
If you don't already have a collection of plastic kitchen containers, it's possible to find an affordable set at a dollar store. Look for brightly-colored pieces to add even more fun. No time to run to the store? Grab a set of stackable measuring cups from the kitchen instead.
Whether your aging loved one was previously an avid couponer or has never clipped a coupon in her life, there is still much fulfillment to be found in coupon clipping. Not only does this task keep dementia minds occupied, but it also involves a valuable element of socialization—particularly if you work on coupon clipping together. Remember: the final product doesn't matter. In the case of people with dementia, the true benefit lies in the act of doing something purposefully, not in the outcome.
Shining shoes is a bit of a lost art. The good news is that you can buy shoe-shine boxes for just a few dollars—or maybe check the back of your own closet first! Seniors with dementia often find significant fulfillment in polishing and buffing their own shoes. The task is purposeful and practical. In some cases, shining shoes and or polishing objects can revive familiar feelings and spark old memories.
A health tip: Look for clear colors formulated with non-toxic ingredients to keep seniors safe and minimize cleanup.
Pocketbooks can be literal treasure troves for seniors with dementia. From fun textures to zippers, snaps to straps, purses offer a time-consuming form of entertainment. Stock them with jewelry, keys (for non-wanderers), photos, books, or spare change for an added bonus. Consider what types of belongings your own aging loved one would enjoy discovering in a handbag.
A word of warning: For some patients with dementia, handbags trigger an urge to travel. Avoid putting the purse over your shoulder to avoid inspiring an exit.
Many seniors find familiarity and excitement in examining toolboxes. And if you think toolboxes are only for men, think again: Women also enjoy playing with the contents of a toolbox.
A safety tip: Some tools, such as hammers or blades, are inappropriate for a senior with dementia. Look through the toolbox as a precaution, then make sure it is stocked with safe, intriguing items like screws, paint swatch cards, paintbrushes, and tape measures.
Activities for seniors with dementia don't have to be grand or expensive. The simplest tasks can yield wonderful benefits for seniors with dementia (and their caregivers). From any of the above activities to polishing silver or watering plants, everyday objects offer a beautiful blend of play and purpose.