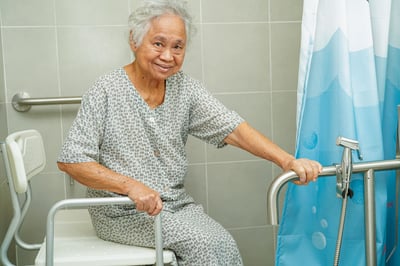 Are you dreading bathtime with your older loved one?
Reluctance to receive personal care is common among older people, especially those with Alzheimer's and dementia. There's no silver bullet solution to making bathing easier.
But there are a number of things you can do to understand and modify this important routine to make sure your loved one stays comfortable, clean, and healthy.
Common Challenges and Caregiver Tips
The following are some of the most common areas of resistance to personal care, and some solutions that can help caregivers address the reluctance.
Challenge: Modesty
Most seniors have been bathing themselves for their entire lives. It can be hard to let go of this important sense of independence and let someone else help you with this intimate task.
Solution: Prioritize Privacy
Communicate with your loved one throughout personal care sessions, and help them maintain a sense of dignity. For some seniors, it can be easier to have a professional caregiver undertake these tasks.
Challenge: Fear of Falling
Many seniors worry about falling while bathing or showering, and they are right to be concerned. One in four adults (36 million) reports a fall each year.
Solution: Install Safety Equipment
Try talking to your loved one about their fears, and brainstorm how to make the process safer and more comfortable. Bathrooms can be made safer by installing good lighting, non-skid surfaces, grab bars, shower benches, and handheld shower heads. Read our home safety tips for seniors for more information on preventing falls.
Challenge: Pain or Discomfort
Some older people express discomfort with the temperature and/or temperature changes of showers, or they feel pain. People with dementia may be especially sensitive to the feeling or sound of the shower, finding it irritating or overwhelming.
Solution: Communication and/or Medication
The first step in managing the care of a patient who doesn't want to bathe is to get to the root of the problem. In some cases, the problem may have a simple fix, like reducing the water pressure, or having them sit instead of stand.
It always helps to talk with your loved one and a health care provider about how to maintain good hygiene in a way that feels comfortable and pleasant. A doctor might recommend an anti-anxiety medication, which can make personal care more tolerable for both patients and caregivers.
Open Communication Channels
Although bathing can be a particular challenge, it tends to go more smoothly when caregivers take proactive steps and maintain a calm and positive demeanor.
If personal care is becoming more challenging, start a conversation with health care providers and your loved one to make sure that you understand as much as you can about why bathing is difficult. As much as possible, include your loved one in the conversation about how to make the process more comfortable.
Be Flexible
There are no hard and fast rules for when and how often seniors should shower or bathe. Some times of day will be more conducive to bathing than others, so try to schedule baths within these windows. For example, if you're caring for a patient who exhibits sundowning symptoms, morning bathing may be preferable to evening bathing. And some patients are more receptive to sponge bathing than a full bath or shower.
If you are caring for someone who is aging in place, it can help to enlist outside help. Many caregivers find that the task of bathing is easier to accomplish when outsourced to a professional such as a home health worker.
When caregivers approach bathing with compassion and an understanding of the root causes of their loved one's resistance, bath time can be a time of connection instead of stress.