Though more than 5 million Americans suffer from Alzheimer's disease, public knowledge about the condition is scant. Many people don't know much about it, and the little they have learned most likely came from popular media, such as movies and TV shows. By 2050, it is expected that the number of people afflicted by the condition will almost triple because of the aging of the general population at large, meaning it's increasingly important for people to understand the symptoms of Alzheimer's and the treatments available.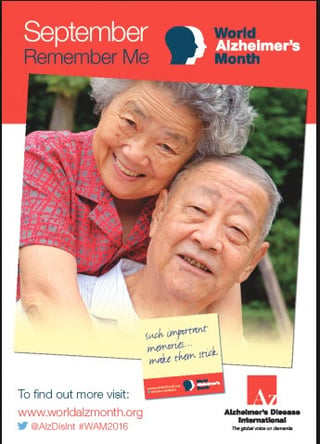 September is World Alzheimer's Month and September 21st is set aside as World Alzheimer's Day. Every effort will be made throughout the month to help raise awareness about the condition and to educate the public of the difficulties faced by those affected by the disease as well as their caregivers.
In addition to Alzheimer's, cognitive impairment can be attributed to three other types of clinical dementia syndromes such as Vascular Dementia, Dementia with Lewy Body, and Frontotemporal Dementia. In this video Clinical Differences Among Four Common Dementia Syndromes Dr. Thomas Weiss will help you to distinguish the differences in these four dementia syndromes and what they mean to patients and caregivers.
Alzheimer's sufferers usually require significant care because they cannot remember events that have just taken place, lose track of their activities, and have difficulty learning new things. Eventually, they may lose the ability to undertake indispensable personal chores, such as bathing and meal preparation. There will come a time when loved ones or professional caregivers will need to step in and assist with their care.
Recent technological developments have been made specifically for those with Alzheimer's as well as their caregivers. Through the use of either full home automation systems or smart devices independently, caregivers are able to monitor patients remotely with corresponding smartphone apps. With hands-free thermostat controls, remote door locking and security systems, and voice-activated home appliances seniors, including those with Alzheimer's, would be able to utilize such technology with ease. Additionally, advanced sensor technology in the form of lightweight devices such as watches, are equipped with medical alert systems and are capable of tracking location, exercise habits, medicine consumption and other health-related activities of the wearer.
Research into a cure continues, partly under the auspices of organizations like the Alzheimer's Association and partly funded by the government. The White House Conference on Aging held in 2015 illustrated the commitment of the U.S. Department of Health and Human Services to eventually ending the disease. There are a few promising results that have come out of studies, such as the indication that a chemical called resveratrol may play an important role in treatment, but a lot of work still needs to be done.

As we continue to reflect on the challenges and possibilities that the future may bring to those afflicted by dementia and Alzheimer's, the more people are aware of the condition and its effects, the more resources will be devoted to it. World Alzheimer's Month has been and continues to be a prime opportunity for raising awareness of the disease among the global population at large. If you are interested in spreading knowledge about Alzheimer's and dementia consider volunteering, donating, or joining the Alzheimer's Prevention Registry and do your part to help the cause and all those affected by it.

Guest Blogger: Maria Ramos
Maria is a freelance writer currently living in Chicago. She has a Bachelor of Arts degree in English from the University of Illinois at Chicago with a minor in Communication. She blogs about environmentally friendly tips, technological advancements, and healthy active lifestyles.