Aging adults are at high risk for injuries related to fire and burns. The first week in February is National Burn Awareness Week, and most people are unaware of the fact that seniors are at such a high risk. It is suggested that people 85 and over are four times as likely to die in a fire than other age groups.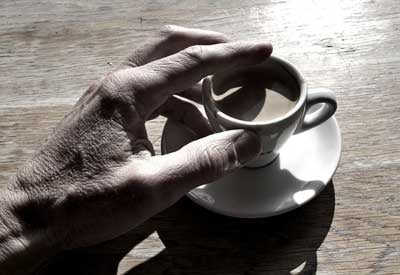 Elderly person having coffee.
Why are seniors more vulnerable?
Seniors tend to fight fires rather than escape them.
Seniors have thinner skin than younger adults.
Seniors may have cluttered homes without clear escape routes.
Seniors worry about their valuables and try to collect them rather than escape.
Seniors may not keep smoke detectors functional with new batteries.
Seniors may leave their kitchen stove unattended while it is on.
Seniors may practice careless smoking. This is especially dangerous around oxygen.
Seniors may not practice proper first aid.
They may have slower physical reaction times due to diminished sense of sight, smell, and hearing or they may be drowsy because of medications they take.
They often times need more time or assistance to escape.
As a caregiver, you can play an active role in keeping your loved one safe. The Burn Foundation has a number of tips for keeping your senior safe.
Install Smoke Alarms
Ensure smoke alarms are installed properly and always have working batteries in them. There should be at least one smoke alarm for each level of the home. It is even better to have one smoke alarm per room. It is good to replace the batteries every six months.
Practice Emergency Escapes
Create an escape plan and keep those routes clear and safe. This video explains hoarding and what to do to if your loved one is hoarding. It is vital to keep the home as clean as possible, for the sake of their safety. If a fire is discovered, get out as soon as possible and call 911. It is smart to keep a flashlight, money, and keys near the front door to grab in an emergency situation.
Basic Burn First Aid
Do not use butter or ice on burns. Instead, simply wrap the burn with a clean bandage and contact medical help.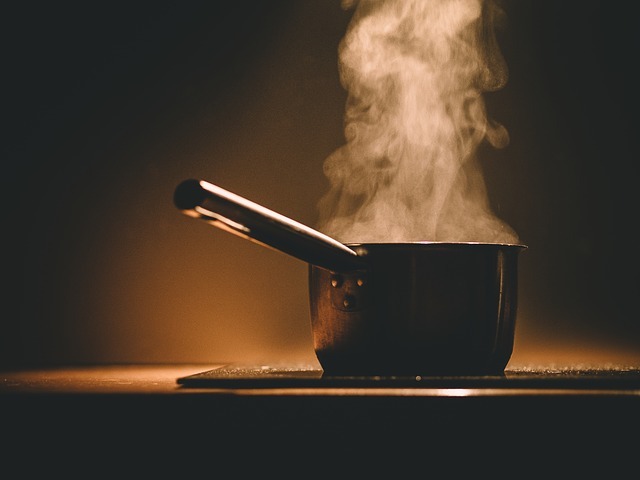 Pot on a stove is unattended.
How to Put Out Grease Fires
Do not try to use water to put out a grease fire. Instead, place a lid or cookie sheet over the burning pan and turn off the stove.
What to Do If Clothing Catches Fire
If your senior is able, practice "Stop, Drop, and Roll." If your senior is not able to stop, drop, and roll, please teach them the following: Stop, Smother the flames, Cool the burn, and then call 911.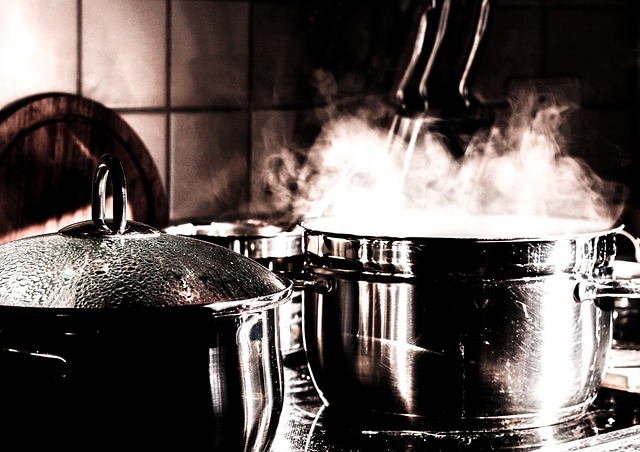 Pots on a kitchen stove.
How to be Safe While Cooking
Never leave the stove unattended while cooking. However, if it necessary to leave the kitchen, bring a reminder or set a timer. Turn pot handles away from the front of the stove or cook on rear burners. Use oven mitts rather than a towel to handle hot pots and pans. To avoid steam burns, open foods away from your face. Do not wear loose clothing while cooking because the fabric could catch fire if it comes in contact with a burner. Some difficulties with cooking come from vision loss. This video has some helpful ideas for dealing with vision loss and making meaningful accommodations.
Burn safety is a critical topic to understand as a caregiver, and these tips will send you in the right direction. For additional resources, mmlearn.org offers a large library of free videos for caregivers of older adults, covering topics pertaining to senior care. Whether you are a healthcare professional or a family caregiver, if you are caring for an older adult we know that you will find mmlearn.org an essential learning and guidance tool for all of your caregiver training needs."