Helping seniors with personal care can be an emotionally and physically challenging task for caregivers. However, there are some ways to lighten the load. Read on for five tips designed to help caregivers manage personal care and hygiene tasks while best supporting the dignity, independence and overall quality of life of aging loved ones.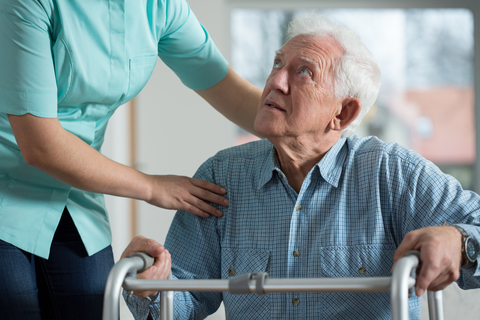 1. Create a comfortable environment.
While the task of helping a loved one bathe, dress, or use the bathroom can be heartbreakingly hard on caregivers, it can be equally stressful for those receiving the care. Creating as peaceful an environment as possible can help alleviate embarrassment and promote feelings of calm and well-being. Gentle lighting and tranquil music can simultaneously soothe and distract.
2. Follow their lead and needs.
Many older adults become set in their ways. While you may have particular bathing habits and/or a preferred schedule, acknowledging the needs and preferences of your aging loved one can help make the task more agreeable. For example, seniors who are not physically active may require full bathing just a few times a week and sponge-bathing on other days. Or perhaps your aging loved one prefers to shower at night as opposed to in the morning. Agreeing upon a schedule in advance can help you best fulfill his/her individual needs while simultaneously supporting a feeling of control.
3. Support their independence.
Helping older adults remain involved in self-care for as long as they are able is vital to facilitating ongoing independence. Various types of adaptive equipment can make bathing and grooming-related tasks easier for aging hands.
Additionally, safety equipment such as nonslip adhesives on the floor, grab bars in the tub and by the toilet can help seniors get in and out of the bathroom with minimal assistance and increase peace of mind for you both. If you're not sure about independence-supporting modifications in the home, a consultation with an occupational therapist (OT) can offer invaluable insights.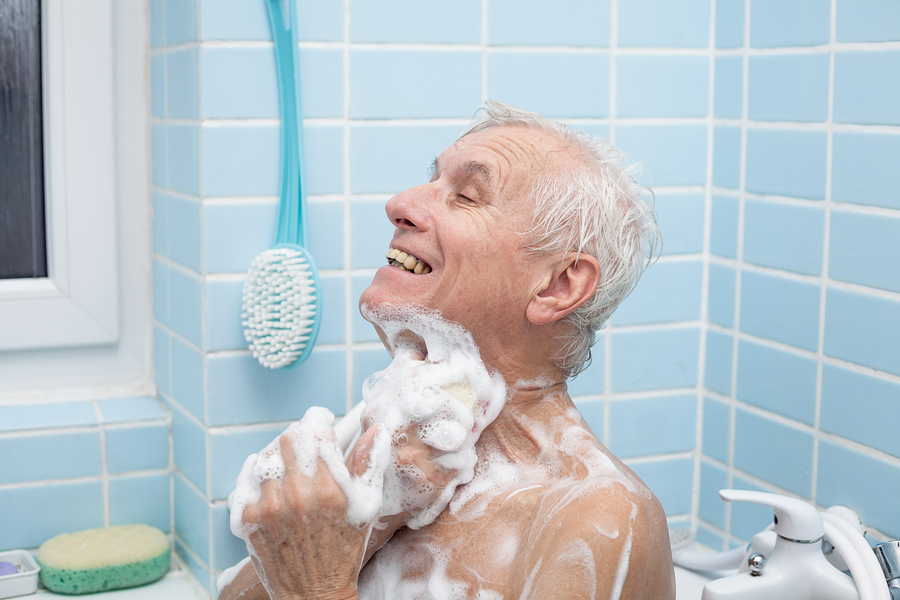 As much as possible, encourage seniors to maintain control over basic self-care tasks.
4. Minimize discomfort.
While some degree of anxiety is natural when helping others with personal care and hygiene tasks, it is possible to reduce awkwardness by planning ahead.
Something as simple as ensuring that the room and water are at the proper temperatures can reduce apprehension, while having a warm towel at the ready following a shower or bath goes a long way toward honoring modesty.
Casual conversation about unrelated topics, meanwhile, is another way to diffuse tension. Remember: your aging loved is attuned to your body language and emotions. The more comfortable you appear to be throughout these tasks, the more comfortable he/she will be, as well.
5. Use your resources.
While caregiving can sometimes feel extremely isolating, the truth is that you're far from alone. In fact, millions of caregivers all over the country are experiencing the same challenges that you are. Joining a support group or online forum not only offers invaluable fellowship, but can also yield helpful suggestions from others facing the same struggles.
If these tasks do become insurmountable, consider hiring a private-duty caregiver for assistance.
One last thing to keep in mind: The more you learn about best practices and coping techniques for hygiene, personal care, and other caregiving tasks, including everything from how to transfer someone from a wheelchair to a toilet seat to perennial care tips, the more prepared you'll be to face these tasks with knowledge, confidence and strength.
If you're looking for a comprehensive resource for family caregivers, check out our
online Family Caregiver Guide
.
mmLearn.org offers a large library of free videos for caregivers of older adults, covering topics pertaining to senior care. Whether you are a healthcare professional or a family caregiver, if you are caring for an older adult we know that you will find mmLearn.org an essential learning and guidance tool for all of your caregiver training needs. For more useful content, access our database of free online caregiver videos today.