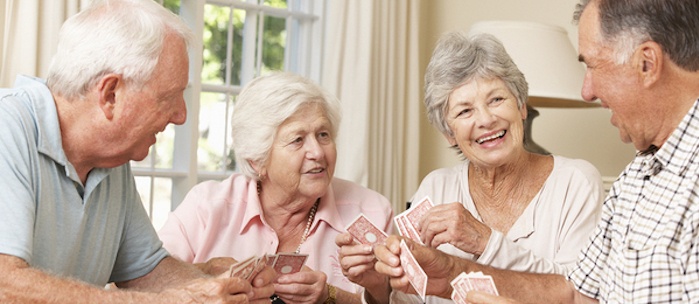 Assisted living. Nursing homes. Memory care. Senior living. With so many senior living community housing options for older adults, it can be hard to keep track of them all. One particular term people may not be familiar with? Personal care homes. Here's a closer look at this relatively new alternative to nursing home care, along with why it may be an ideal fit for many independence-seeking seniors.
Assisted Living Versus Personal Care
While the terms "assisted living" and "personal care homes" are often used interchangeably, some key differences may exist. In order to make sense of the latter, it's helpful to understand the former.
The Administration on Aging (AoA) defines assisted living as "a housing alternative for older adults who may need help with dressing, bathing, eating, and toileting, but do not require the intensive medical and nursing care provided in nursing homes."
Typically, residents of assisted living facilities reside in their own living spaces with assistance in everything from help with daily living activities and medication reminders to meals and recreation activities. Housekeeping and laundry, security and transportation are also commonly included. These facilities may stand alone or be part of a larger retirement community.
The Positives of Personal Care
While personal care homes also provide housing accommodations for seniors, they differ in concept. For starters, they usually cater to a smaller number of people -- from as few as four and capping out at 10 residents, depending on individual state regulations
Another key differentiating factor? While assisted living homes may be configured more as studio apartments, personal care residents occupy rooms in private homes while sharing a common space. They can even exist in residential neighborhoods!
As with assisted living, residents have access to trained and qualified staff who can help them with both personal needs and medical assistance. However, acute medical care is not available in personal care homes.
Personal care homes are also prized for their flexibility: Residents can come and go as they please, although most personal care homes do offer structured activities, organized outings, and other social events to promote engagement.
All in all, seniors looking for a less "institutional" feel may find their needs better met in a personal care home. Popular for their home-like environments, they provide a sense of community and independence which some seniors may find lacking in conventional assisted living communities.
Personal Care Home Considerations
If a personal care home sounds right for your aging loved one, there are some factors to consider. For starters, location is essential. In addition to being near medical facilities in the event of an emergency, proximity to family and friends can be a vital part of supporting senior health and well-being.
Costs cover not only room and board, but also the staff. Depending on the home, it may be priced daily or monthly. Be sure to ask for a breakdown of costs to determine exactly where your money will be going.
As with all living options in senior living communties, it's important for residents and their family members to feel comfortable with the staff. Interview the house manager and/or talk to staff members to get a sense of staff personalities as well as community culture.
One last thing to keep in mind? The state of senior care is constantly changing. Not only are terms and definitions still evolving, but they can vary from state to state and from community to community. Visiting a community, talking to administrators and staff, and observing residents can help you make the most informed decision when choosing the optimal living environment for your aging loved one.
If you're looking for a comprehensive resource for family caregivers, check out our
online Family Caregiver Guide
.
mmLearn.org offers a large library of free videos for caregivers of older adults, covering topics pertaining to senior care. Whether you are a healthcare professional or a family caregiver, if you are caring for an older adult we know that you will find mmLearn.org an essential learning and guidance tool for all of your caregiver training needs. Access our database of free online caregiver videos, --on everything from "what to look for in a personal care home" to "how to communicate with someone who has Alzheimer's Disease" -- today.