More than a third of people aged 65 or older in the United States fall every year, according to the National Institutes of Health (NIH). Even worse? More than 1.6 million of them end up in the emergency room due to fall-related injuries. Falls the leading cause of fractures, hospital admissions for trauma, loss of independence, even death.
While we often focus on preventing falls for seniors, the reality is that seniors can and do fall. Because of this, it's also important for caregivers to know how to respond in the event that a fall occurs. Read on for a roundup of tips aimed at helping caregivers assist a fallen senior.
Five Tips for Responding to a Fall to Ensure Senior Safety
By adhering to the following five tips, you can minimize the physical and psychological effects of a fall -- both for you and for your aging loved one.
1. Remain calm. The calmer you are, the calmer your loved one will feel. Take deep, slow breaths, and encourage your loved one to do the same.
2. Look for injuries. Common fall-related injuries include sprains and fractures to the hip, pelvis, spine, arm, hand or ankle. If you believe a fallen loved one has a broken bone or another serious injury, don't move them. Instead, call 911 and focus on keeping your aging loved one as comfortable as possible until assistance arrives. Not sure? When it doubt, the safest course of action is always to call 911.
3. Take it slow. If the fall hasn't resulted in a serious injury and your aging loved one wants to get up, proceed with caution, making sure to stop immediately if he comes too tired or "stuck" while rising.
4. Follow best practices. The Public Health Agency of Canada (PHAC) recommends the following four steps for helping someone get up:
Move a chair nearby
Help the individual roll onto his side and then into a kneeling position with both hands on the chair
holding onto the chair, the person should place the stronger leg on the floor and rise to a stand before turning and sitting on the chair.
Remember: you are there to provide guidance and support, not to do the physical lifting.
Notify the healthcare team.
Even if the fallen individual seems fine, falls are still serious. Sometimes effects may take days to appears. Experts recommend a "better safe than sorry" approach when it comes to seniors and falls -- particularly because falls may indicate an underlying condition or be caused by medication. A trained medical professional can assess and treat the situation in order to prevent future falls and help your aging loved one maintain optimal health.
Other Things to Keep in Mind
Injuries aren't the only consequence of falls. Another major repercussion for many seniors? The fear of falling, which can be equally debilitating in a very different way. Says PHAC,
"It's normal to be more cautious after a fall, but the fear of falling again may lead you to restrict your activities. This is a vicious circle: the less active you are, the more your strength and flexibility decrease, which increases your risk for falling. What's more, if you isolate yourself because you feel vulnerable, the reduced social contacts may undermine your spirits."
Encouraging your aging loved one to discuss his fears with you, another caregiver or family member, or a healthcare professional can be a valuable coping mechanism for managing the fear of falling and staying active. For more information watch mmLearn.org's videos: The Fear of Falling...Causes Falls presented by Tracy Zerkle, Lead Trainer for A Matter of Balance: Managing your Concerns about Falls.
Exercise classes and physical therapy can help seniors grow stronger in both body and mind. Investing in an emergency response device can offer an additional layer of peace of mind for seniors and their caregivers.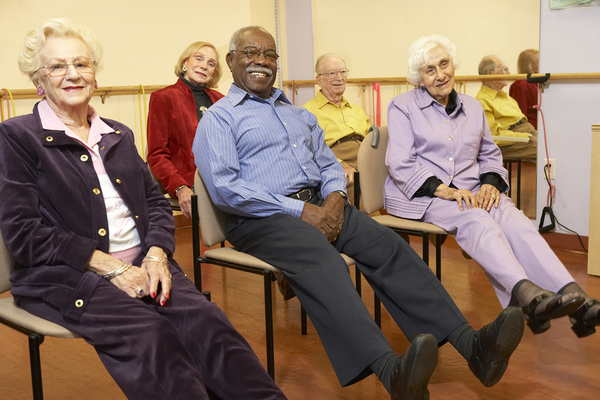 Prevention is important in ensuring senior safety. Fall-proofing your aging loved one's living space with non-slip rugs, handrails in the bathroom and on the stairs, and other support features can add up to a safer home environment.
Responding properly to a fall can be the differentiating factor between a life-changing event and a minor incident. The more caregivers know about fall prevention and responding to falls, the better they'll be able to help aging loved ones if a fall does occur.
If you're looking for a comprehensive resource for family caregivers, check out our
online Family Caregiver Guide
.
mmLearn.org offers a large library of free videos covering topics pertaining to senior care. Whether you are a healthcare professional or a family caregiver, if you are caring for an older adult we know that you will find mmLearn.org an essential learning and guidance tool for all of your caregiver support and training needs. Access our database of free online caregiver videos today.