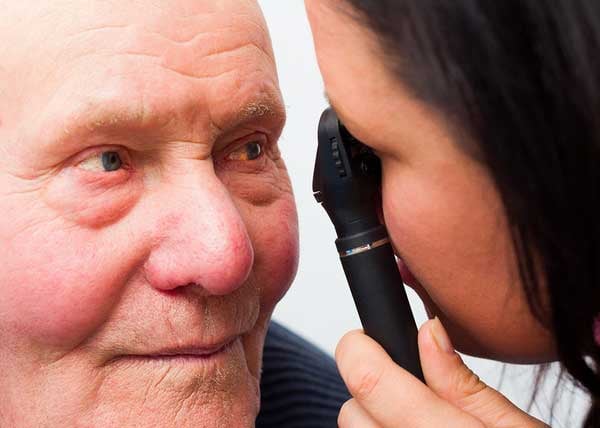 More than 90 percent of people have at least one cataract by the age of 65, according to the University of Michigan Kellogg Eye Center. While cataracts are extremely common in seniors, not all caregivers understand what they are and how they impact vision. There's no better time to shine the light on this important senior wellness topic than during June's Cataract Awareness Month. Let's count down seven things all caregivers need to know about cataracts.
1. A cataract forms when the proteins inside the eye begin to breakdown leading to a clouding of the eye's lens. Age-related cataracts are the most common type of cataract. Less common types include congenital, traumatic and secondary.
2. While cataracts are an effect of aging and there is no way to 100 percent prevent their formation, certain factors increase the risk of cataracts, including aging, smoking, heavy drinking, obesity, hypertension, family history, excessive UV light exposure, diabetes, radiation from cancer treatments and x-rays, and previous eye injuries. Caregivers can reduce their aging loved ones' risk factors by supporting certain behavior changes, such as wearing sunglasses, limiting tobacco use and alcohol consumption, and eating plenty of antioxidant-rich foods.
3. Symptoms of cataracts -- which can occur in one or both eyes -- come on gradually and can't be felt. However, over time they can lead to different types of vision distortion, including glare, diminished contrast, color sensitivity, and, eventually, vision loss. It's even possible to have 20-20 vision with a cataract!
4. Diagnosing a cataract involves no imaging or invasive testing. An eyecare professional can diagnose cataracts -- along with any other eye issues -- during a dilated eye exam.
5. Roughly 3.6 million cataract surgeries are performed in the U.S. every year -- making it the most common procedure offered by ophthalmic surgeons, according to the Review of Ophthalmology. During the 15-minute procedure, an eye surgeon removes and cleans the lens before inserting a new lens implant. Vision may begin to improve the day after the surgery with full recovery within a month.
6. While cataract surgery is common, safe, and offers a 96 percent success rate, it's not necessary to treat cataracts until they begin to impact vision. According to Harvard Medical School Clinical Professor of Ophthalmology and Founder of Massachusetts Eye Research & Surgery Institution, Stephen Foster, "Many people put off surgery for years...I always say that if a cataract affects your quality of life, then we need to make plans to take it out. Otherwise, we can forget about it until your next appointment." Looking for a benchmark timeline? The majority of people who get cataract surgery are between the ages of 70 and 79, with the 80-89 and 60-69 age groups coming in second and third, respectively.
7. Cataract surgery can lead to a number of beneficial outcomes beyond improved vision, according to statistics from the American Academy of Ophthalmology (AAO). Patients who have cataract surgery have a 40 percent lower mortality risk, and are at 16 percent and 13 percent degreased rip of hip fractures and car crashes, respectively, following cataract surgery. Perhaps the greatest benefit of cataract surgery, according to the AAO? Improvements to quality of life: Surgery on one eye leads to quality of life gains of 21 percent while surgery on two eyes yields quality of life gains of 36 percent.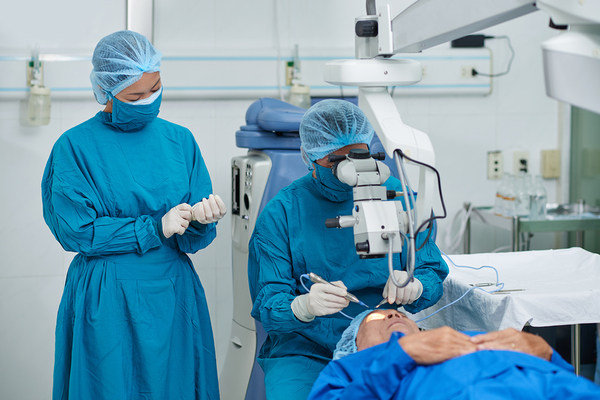 Cataract surgery does more than improve vision.
Watching for changes in vision and other eyesight-related symptoms can help caregivers keep aging loved ones' eyes in optimal condition. However, because many age-related eye health problems are symptom-free, routine eye exams in older age are also critical. The American Optometric Association recommends that all adults over the age of 60 get routine annual eye exams.
mmLearn.org offers a large library of free videos for caregivers of older adults, covering topics pertaining to senior care. Whether you are a healthcare professional or a family caregiver, if you are caring for an older adult we know that you will find mmLearn.org an essential learning and guidance tool for all of your caregiver training needs." For more useful online training for caregivers, access our free video database today.