Stephan Baldwin is the Director of Business Development for AssistedLivingCenter.com, a resource for senior care communities.
More than likely, if you're reading this, you are a caregiver for an elderly loved one who is nearing the end of their life. Unless you are a professionally trained nurse, you've probably never done this before. It is normal to feel scared, confused, even a little angry or resentful.
The end of life experience is different for everyone. This guide was written to help you navigate common issues and concerns that many people face as a caregiver.
What To Expect During The Dying Process
It's important to understand the changes your loved one is going through, both physically and emotionally. You'll notice changes happening more frequently and dramatically in the last six to twelve months of their life.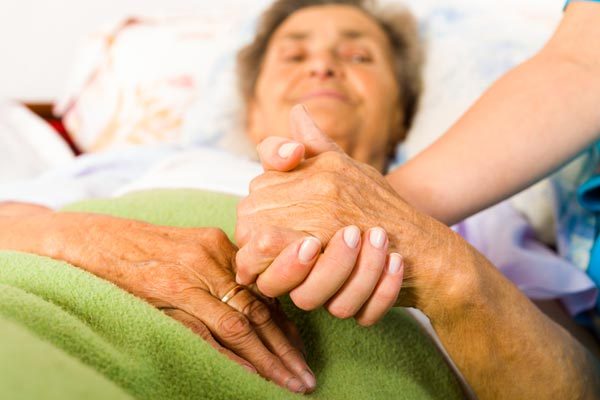 The caregiver role is a tough, but rewarding job.
The Last Months
Physical symptoms include weakness, shortness of breath and fatigue that can result in a loss of interest in their favorite activities. You may notice a loss in appetite that will result in weight loss, increased pain, tingling sensations in the hands and feet, and loss of control over their bladder and bowels.
FREE VIDEO: End of Life Care - Part 1
FREE VIDEO: End of Life Care - Part 2
FREE VIDEO: End of Life Care - Part 3
Final Days and Hours
Many people have a fear of dying - a fear of the unknown. It is to be expected that your loved will experience a wide range of emotions during these last months. It is common for these feelings to escalate to anger and depression resulting in a loss of interest in the outside world.
The last emotions many people feel is a sense of acceptance and contentment. This is common as they ponder their spirituality, God, and the meaning life had for them.
While the final hours in someone's life are unique, there are some things you can expect that shouldn't alarm you. A decline in the frequency of movement and speech is common. It may come as a shock to you if their touch is colder, skin and fingernails turn blue, or their breathing causes a "rattle" sound. These are common, and typically do not cause any pain. NIH.gov has found that Atropine eyedrops can be used to reduce sound of the rattle if it becomes disturbing.
As the central nervous system is impacted, the person may lapse into a coma. If this happens, family and loved ones must treat them as though they are aware of their surroundings. People who are unconscious can still feel pain and hear what's going on around them.
During the final moments, illusions, hallucinations, and delusions may afflict your loved one mentally. You should keep in mind that this behavior is out of their control and anything they say or do is not done purposely.
Talking And Listening
It seems too obvious or simple, but talking and listening can be beneficial for both the patient and the caregivers. Keep the conversations going and give them the chance reflect on their life, their illness, and what they're feeling about having just a short time to live.
Talk to them about ahead of time about what kind of care they wish to receive and if they want to pass at home, or in a hospital with health professionals nearby. It's also a good time to talk about power of attorney and other legal documents if you haven't done so already.
You may also need to help them contact past acquaintances to say they love them, to forgive or be forgiven, or simply to say goodbye.
FREE VIDEO: How to BE with Someone Who Is Dying
Helping With Meals
Eating and drinking is an important social activity that people share together. Foods may start to taste odd to them. Their appetite will decline as they reject food more often. This can be hard for a caregiver to understand, as they want the care receiver to live as long as possible. It is okay to begin offering different foods, or foods that normally aren't eaten at a given time. Let your parent know that it is okay not to finish a meal and not make them feel that they have to force themselves to eat.
Working With Medical Professionals
It's important to make sure the physicians and nurses know that you're the main point of contact and that you need to be aware of everything that is happening. You can't depend on information shared with a brother or aunt to be accurately relayed to you.
It's easy to allow a doctor or other medical professional to be dismissive about your requests or input. After all, they have more medical knowledge and experience, but you're the expert when it comes to your loved one's needs. An important part of hospice caregiver training is to be firm and insistent with what your loved one's wishes are with the staff.
FREE VIDEO: Hospice: What You May Not Know
Healthcare Decisions
There will come a time when you will need to make decisions, and they won't be easy ones. The first difficult choice many elderly caregivers face is artificial nutrition and hydration, commonly known as a feeding tube. It will give your loved one some additional energy, but it is not going to cure them or stop them from passing. There is also a chance, albeit a small one, that the liquid food can wind up in the lungs causing pneumonia.
The use of CPR can be used to resuscitate through breathing and chest compressions, but electrical shock and drugs also may be needed for CPR to work. Chest compressions can be painful, especially for someone who is older and fragile. It's crucial to discuss if they would prefer a DNR, (do-not-resuscitate) order in advance.
Ventilators are utilized when breathing becomes difficult and the lungs fail. It can be incredibly successful for short-term treatment, but for end of life, it only prolongs the state of the patient without any improvement.
As an elderly caregiver, you will need to weigh the pros and cons of each of these issues and discuss them with your loved one. Many hospitals offer support for caregivers to help them navigate through this difficult time.
FREE VIDIO: Who Decides When You Can't: Advance Directives
Grieving
When the time comes that your loved one passes away, you will probably feel shocked, numb, and disoriented. You may have tried to prepare yourself mentally, but it is going to still hurt, regardless of how long you cared for them. Over time, the numbness wears off and will be replaced by sadness.
During this time it is normal to cry periodically, feel guilt over not doing more, and other intense feelings of remorse. You will be able to adjust to the changes and start getting back to a normal routine as time goes by.
Going back to your normal schedule will take some time. It could take a long time to start to enjoy life again, now that your loved one is gone. You should contact a healthcare professional if you're still having feelings of grief and depression, especially if it's been longer than a year.
Interested in online support for caregivers? Access our free online caregiver videos