Social media is no longer the exclusive domain of the young and the hip. In fact, seniors are a quickly growing demographic in terms of social media use. While most people think of vacation selfies, "eating and tweeting," and other seemingly superficial interactions when they think of social media, the truth is that social media serves a profound purpose -- especially when it comes to the very real problem of social isolation. The research is in, the percentage of users over 65 is up, and there are benefits to helping seniors connect. While the process of navigating the social world will be daunting for some, caregivers can help.
The Research Is In
While younger people still remain the largest users of social media at 90 percent, usage among the 65 and over set has more than tripled in recent years. In fact, 35 percent are now using social media compared to a mere two percent in 2005, according to Pew Research's report, "Social Media Usage: 2005-2015."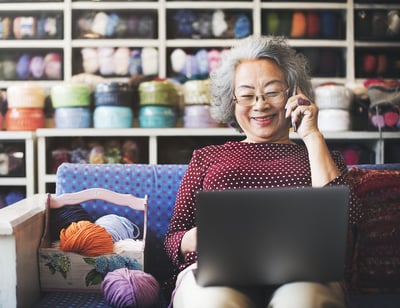 Social media opens up new worlds for seniors.
Top Five Benefits of Seniors and Social Media
1. Stay in Touch
Today, family members and friends are spread all over the world. While the telephone used to be the most personal way to keep in touch beyond face-to-face interactions, social media presents an abundance of ways to keep the lines of communication open. From long-lost childhood friends to kids and grandkids, reading posts, viewing photos, and sharing messages within a social network can lead to the cultivation of a surprisingly vibrant digital community.
2. Boost Cognitive Capacity
According to recent research from the UK and Italy, people who had access to social media, along with training in using it felt less isolated, and demonstrated better cognitive capacity. Many also experienced improved mental and physical health after learning how to use social media.
3. Engage Their Interests
Seniors may have physical and geographic limitations, but social media opens doors to lifelong learning. From researching topics of interest and joining relevant groups, to asking questions through a breadth and depth of online channels, seniors can reach out through social media and enrich their lives in doing so.
While there are many informal ways to keep aging minds active, those looking for more formal continuing education options may find them by enrolling in online courses with built-in tools for connecting with classmates in the virtual space.
4. Share Their Own Stories
Seniors have great stories to tell, but they often lack a platform from which to share these stories with others. Seniors who blog, post and tweet about their own experiences, beliefs and opinions have a great deal to offer the world at large. Social media amplifies their potential audience, helps them stay connected with old friends while making new ones, and ultimately enjoy a feeling of belonging and greater sense of self-worth.
5. Save Money.
Active social media users who "like" and "follow" their favorite brands gain access to a number of different promotional opportunities, including deals, discounts and freebies available exclusively to social media users. Whether your aging loved one is on a limited budget or simply loves a good bargain, social media is a fun way to track down savings.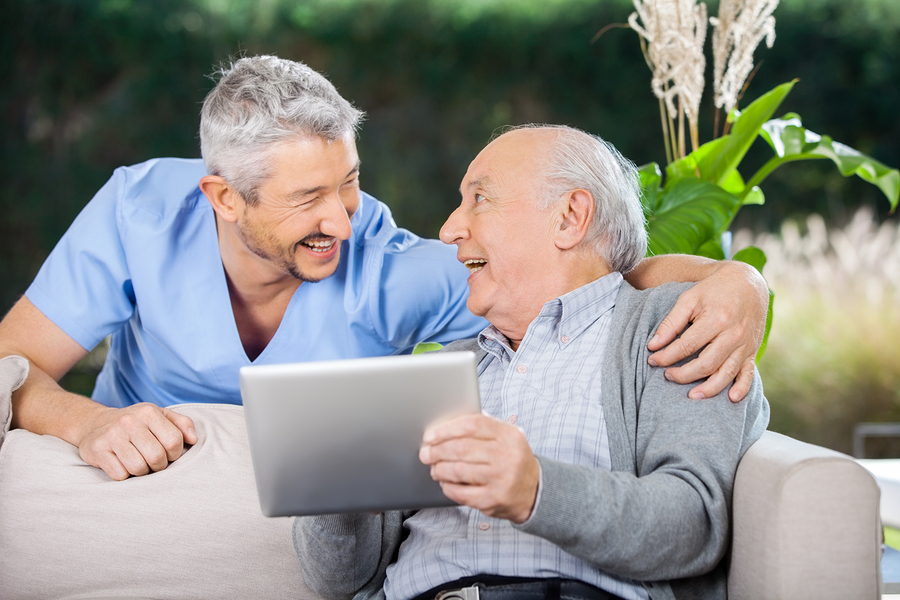 Seniors may need extra help learning to use social media, but the rewards are worth it.
One last thing to keep in mind: Seniors may initially be intimidated by social media or overwhelmed by the prospect of learning to navigate the social world. While the process may require patience, the long-term benefits make it well worth the effort.
mmLearn.org offers a large library of free videos for caregivers of older adults, covering topics pertaining to senior care. Whether you are a healthcare professional or a family caregiver, if you are caring for an older adult we know that you will find mmLearn.org an essential learning and guidance tool for all of your caregiver training needs. Access our free database of online caregiver videos for more valuable content today.