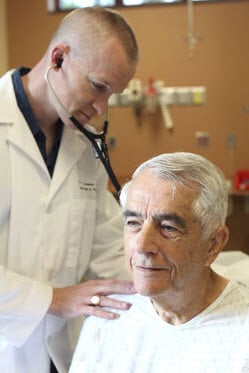 Cardiologists. Neurologists. Gastroenterologists. Ophthalmologists. Urologists. As a caregiver of an older adult, you are probably struggling to juggle the long list of healthcare providers your loved one is seeing in addition to a primary care physician. But is it time to add one more to the list? Let's take a closer look at the role of geriatricians, and whether one might be a valuable addition to your aging loved one's healthcare team.
A geriatrician is trained to meet his/her specific needs.
What Is A Geriatrician?
While the majority of seniors are treated by family physicians and general internists, geriatricians offer specialized care for older adults who may have serious or multiple health concerns.

Due to the aging population and rise in chronic ailments, geriatrics is a quickly growing medical field. While geriatricians undertake the same residency training as internists and family medicine physicians, they also undergo additional fellowship training qualifying them to assess, diagnose and treat problems specific to people as they age, as well as to understand the ways in which seniors react to illness compared to younger adults.

During this specialized training, geriatricians gain expertise in managing multiple conditions and symptoms and developing comprehensive care plans designed to address the complex healthcare needs -- including physical, psychological, and social issues -- of today's seniors. This can include anything from knowledge of falls to expertise in polypharmacy.

Who Should See A Geriatrician?

Not all seniors are in need of a geriatrician's services. If your aging loved one is free of significant health concerns, a primary care physician may be sufficient. However, if he/she suffers from a broad range of medical issues -- as many seniors do -- a geriatrician can be an invaluable resource.

Unfortunately, many caregivers resist the idea of a geriatrician because of concerns about adding yet another entity go the healthcare team. However, the reality is that geriatricians offer an alternative to the overwhelming caregiver task of juggling multiple doctors by becoming your trusted go-to. A geriatrician may also assume responsibility for coordinating care across all other members of the healthcare team.

Geriatricians may also be more attuned toward maintaining functionality and quality of life for older adults. Additionally, they are likely to have awareness of and access to the broadest range of resources for seniors, as well as a sensitivity to social and economic issues which may be impeding care.
Understanding your options can help you ensure that these hands are in the right hands

Still not sure whether a geriatrician is right for your aging loved one? In "When Do You Need a Geriatrician?", ElderCare Online Founder and Community Coordinator Rich O'Boyle identifies the following as factors in determining whether a geriatrician is right for your aging loved one:
he/she is suffering from considerable impairment and/or coping with multiple diseases, disabilities, and cognitive decline.
his/her prescription drug regimen is proliferating, making it more difficult to determine which are appropriate.
Geriatricians offer a lifeline to senior patients and caregivers alike when it comes to delivering the most meaningful care during this challenging phase of life. For more information on whether or not you or your loved one needs a geriatrician watch this short webcast. For additional information on caring for older adults visit mmLearn.org.
If you're looking for a comprehensive resource for family caregivers, check out our
online Family Caregiver Guide
.
mmlearn.org offers a large library of free videos for caregivers of older adults, covering topics pertaining to senior care. Whether you are a healthcare professional or a family caregiver, if you are caring for an older adult we know that you will find mmlearn.org an essential learning and guidance tool for all of your caregiver training needs.