Caring for a loved one living with and dying of a terminal illness is a challenging yet worthwhile experience. Offering physical, mental and emotional comfort during this difficult time is a significant responsibility, but a worthy one. Read on to learn more about end-of-life care, along with how you can best help your loved one have a peaceful transition.
Communication Matters
Questions and concerns will invariably arise throughout the end-of-life care process. Your loved one's health care team can be a valuable resource in determining how best to support your loved one's needs. It's also important to keep the lines of communication open between family members.

Patients who understand their options may feel less stress and exhibit better coping mechanisms, so don't withhold information in an attempt to "spare" their feelings. While having these conversations can be difficult, doing so matters.
It is also important to complete advance directives before the patient becomes unable to participate in the decision-making process.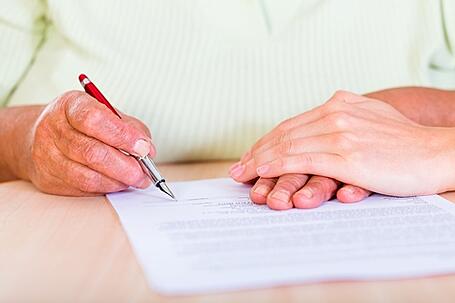 Be prepared to listen - a simple touch soothes when words fail.
What Is End-of-Life Care?

When your loved one's healthcare team determines that no further clinical treatment options exist, end-of-life care may be the next step. While certain medications may ease pain and help with symptoms, the primary goal is to offer comfort and improved quality of life.

Many patients receive this care at home while others are admitted to a hospital or other facility. Whether your loved one is receiving care at home or elsewhere, a number of services -- including hospice -- are available to help with medical, physical, emotional, and spiritual concerns related to death and dying.

About Hospice

Wondering how long your loved one will live is a very normal question, but it is a difficult one to answer. While some doctors may offer an estimate, a number of factors affect what may happen. Typically, patients become eligible for hospice when they have less than six months to live. According to researchers from the Brookdale Department of Geriatrics and Palliative Medicine at the Icahn School of Medicine at Mt. Sinai and the National Hospice and Palliative Care Organization, hospice -- which includes medical, psychological and respite care -- not only saves millions of dollars in Medicaid, but can also play a meaningful role in improving quality of life -- not just for dying patients, but also for their family members.

Supporting Your Dying Loved One

Each person's end-of-life experience is different, but there are many shared emotions. People who are dying often worry about abandonment, loss of control, and loss of dignity. They also struggle with fears of becoming a burden.

One simple way to ease these fears? Be present. Offer your company and conversation, and be prepared to listen. Follow your loved one's lead, and check in frequently to see if there's anything you can do to help.

And don't forget about the importance of physical touch: handholding or a hug can help a patient feel a sense of connection.
Watching your loved one die is not easy, but knowing what to expect can help you weather this challenging time. In this video, Dr. Justo Cisneros, a Hospice Medical Director explains Hospice, what it is and what it is not. This informative video offers helpful caregiver training on death and dying. And don't forget: your caregiving efforts offer invaluable comfort and relief to your loved one.
For additional help for caregivers watch the training videos available at mmLearn.org. mmLearn.org provides free online training for those who care for older adults.