Many caregivers don't know how their aging loved ones would want their healthcare matters handled in the event that they were unable to directly communicate their wishes for themselves. While the subject is difficult, it's a worthwhile topic to consider: waiting for a crisis to occur can lead to regrettable as opposed to informed decisions. Let's take a closer look at how caregivers can initiate the conversation with aging loved ones, as well as other critical end-of-life information.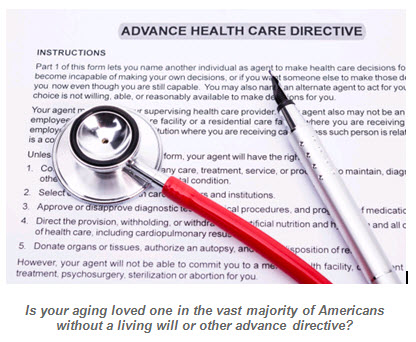 Starting the Conversation
While no one wants to think about their own passing, dying is a part of life. In fact, starting the conversation is often the hardest part of the process. Where do you even begin?

Many people find that opening with the experience of a friend or family members offers an understandable entryway into the topic. Perhaps you can discuss a recent end-of-life situation involving someone you know, or call attention to a recent news item in which a family is conflicted due to lack of direction about a loved one's healthcare wishes?

Rather than putting your loved one on the spot, however, suggest a group discussion in which all relevant parties can share their personal health care wishes. This can help seniors feel more comfortable disclosing their own. Choose an appropriate setting -- preferably a private one -- in which your aging loved one feels most comfortable. It is always best to ask permission before initiating this difficult discussion. If your aging loved one pushes back, reiterate why the subject is important to you, but honor and respect his/her wishes.

It can also be useful to give the discussion context. For example, does your aging loved one want to live as long as he/she can in order to spend more time with beloved grandchildren? Or perhaps quality of life takes precedent over quantity of life, and your loved one would prefer to have some control over being in the company of friends and family members while dying? Others are influenced by their faith.

Ultimately, your loved one's preferences may differ from your own. Your role is not to sway them in one direction or the other, but to listen, show support and ultimately accept his/her wishes.

In addition to discussing their end-of-life wishes and healthcare goals with you, your loved one may also benefit from talking to a social worker, member of the clergy, financial planner, attorney, or physician.

Still struggling with where to start? Visit The Conversation Project, a website dedicated to opening the lines of communication about end-of-life care.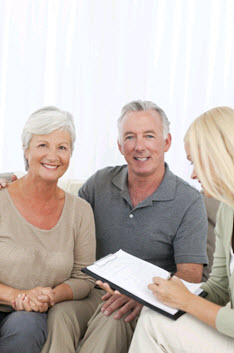 About Advance Medical Directives
Once you understand your loved one's wishes regarding end-of-life care, an advance directive may be the next step. This legal written document explicitly details your loved one's healthcare and financial wishes. In the event that your parent or other relative becomes incapacitated or otherwise unable to express his/her own wishes, advance directives -- including living wills, health-care proxies, and durable power of attorneys (DPOAs) -- become an invaluable part of the healthcare plan.
These documents that fall under the umbrella of "Advance Directives" can be confusing and scary if you don't know how they work to protect you and your loved one's wishes. Each document serves a specific purpose for your healthcare concerns in different situations. Unfortunately, the majority of American's don't have advance directives, which can jeopardize the fulfillment of their wishes. In fact, The Conversation Project reports that while 90 percent of people feel that talking with their family members about their healthcare wishes is important, a mere 27 percent have actually done so. Elder Attorney Carol Bertsh, explains how to navigate and understand these important documents in her webcast "Who Decides When You Can't - Advanced Directives."
While discussions about end-of-life medical treatments and interventions can be sensitive, they are an essential part of understanding your loved one's wishes and honoring them if and when it becomes necessary.
mmlearn.org offers a large library of free videos for caregivers of older adults, covering topics pertaining to senior care. Whether you are a healthcare professional or a family caregiver, if you are caring for an older adult we know that you will find mmlearn.org an essential learning and guidance tool for all of your caregiver training needs.