Touch may well be one of the most unappreciated of the five senses. Every day, we rely on our sense of touch, and yet rarely give it second thought. Seniors, in particular, are vulnerable to the lack of simple acts of touch....and the benefits that go long with them. Elder massage not only offers physical rewards, but also mental and emotional ones. Let's take a closer look at the role touch and massage can play in enhancing the quality of life of your aging loved one.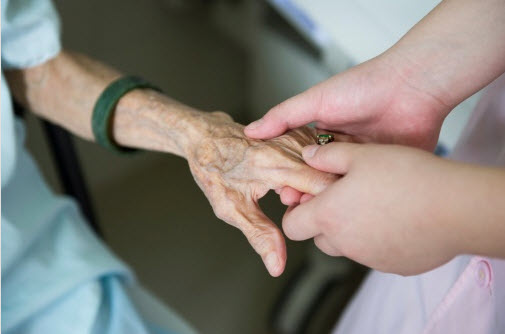 A simple hand rub has beautiful benefits.

The Power of Touch
According to the National Institutes of Health, a breadth and depth of research points to the long-term health benefits of touch. Touch triggers the hypothalamus to produce oxytocin, which is both released into the bloodstream and stored in the brain. This hormone performs a number of different physiological functions, including reducing stress levels, lowering blood pressure, increasing pain tolerance, and boosting mood. It's even been linked with accelerating the rate at which wounds heal!

The benefits of touch start the moment we're born, according to research demonstrating that preterm newborns who received brief sessions of touch therapy over the course of a five to 10 day period gained nearly 50 percent more weight than those for whom touch therapy was not part of their medical treatment plan. The physical and emotional payoffs continue throughout life. However, seniors who are bereft of regular touch miss out.

Why Massage Therapy for Seniors?
When you give your aging loved one a hug or hold hands, you are delivering a valuable dose of touch. However, elder massage offers additional benefits for seniors. While the main aim of massage is not to demonstrate affection, its many benefits cannot be denied.

Geriatric massage is non-invasive, medication-free and gentle. It involves a combination of stroking and kneading, and may also include the application of light pressure on specific points. Massage therapists who specialize in treating seniors may also use stretching techniques to strengthen muscles and improve range of motion.

The benefits of massage and the elderly have been linked with improving blood flow and immunity, reducing blood pressure, and accelerating the healing process. It is also an effective coping and management technique for seniors suffering from chronic pain, such as arthritis. In fact, massage therapy has the ability to positively affect nearly every one of the body's systems.

If your aging loved one suffers from sleep problems, meanwhile, massage offers yet another benefit. According to the American Massage therapy Association (AMTA), massage can improve both the quality and quantity of sleep in the elderly, and for people suffering from a number of debilitating chronic conditions, such as cancer, migraines, and lower back pain.

Research further suggests that massage has therapeutic benefits in the treatment of Alzheimer's patients because it promotes relaxation and facilitates communication.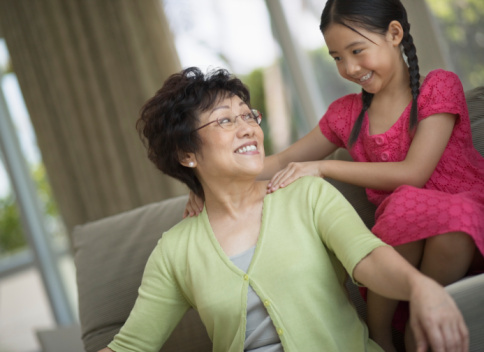 Even children can give -- and receive! -- the benefits of massage.
Whether you seek out a massage therapist who specializes in treating seniors or incorporate massage into your caregiver training, you have the tremendous potential to improve your aging loved one's overall health, wellness and quality of life through touch.
mmlearn.org offers a large library of free videos offering support for caregivers of older adults, covering topics pertaining to senior care. Whether you are a healthcare professional or a family caregiver, if you are caring for an older adult we know that you will find mmlearn.org an essential learning and guidance tool for all of your caregiver training needs.