Touch is so important for making connections with our loved ones.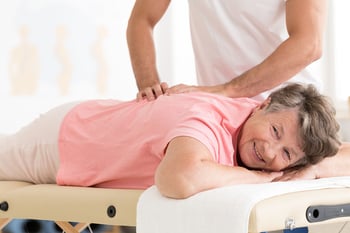 Have you asked your aging loved one if they would like a hand or foot rub?
Or considered booking a professional geriatric massage?
If you've ever had a good massage, you know how good it can feel to have a professional feel their way around your knots and tension spots.
There is growing evidence that massage for seniors has many benefits, physical, mental, and emotional.
What Is Massage?
Massage is an umbrella term for several types of body work that involve physically manipulating soft tissue. Massage therapists use their hands, fingers, elbows (and sometimes their feet) to move soft tissue and muscles around.
Massage has ancient roots in both Western and Eastern cultures. There are many different types of massage, and some professionals combine modalities.
Types of Massage
The following are some of the most common types of massage. Most massage sessions last 60-90 minutes.
Swedish

, or classical, massage

is the most common form practiced in Western countries. That's when the therapist uses long strokes, circular movements, kneading, or tapping. It's a great place to start because it's gentle.
Deep tissue massage often focuses on areas that are tight or painful, working on knots or problem spots. It can be more intense than Swedish, but it shouldn't be painful.
Sports massage is often used to address repetitive use injuries to muscles or to increase flexibility or reduce pain or tension.
Trigger point massage focuses on areas of tightness that affect other parts of the body. It has been shown to help with tension and migraine headaches.
Reflexology focuses on the feet, hands, and ears. It can help people sleep better, and it reduces pain and anxiety.
Shiatsu is a Japanese form of massage that has been shown to reduce stress and pain and promote relaxation. Studies have shown that it helps with lower back pain and improves sleep.
Therapists who practice geriatric massage often combine forms to address specific concerns of aging bodies. Massage therapists are always willing to talk about what they do and why they do it, and they should be checking in about pressure levels and needs before, during, and after sessions.
For people of all ages, massage can have many physical, emotional, and mental benefits.


The Benefits of Massage
According to the National Institutes of Health (NIH), research points to the long-term health benefits of touch. Touch triggers the hypothalamus to produce oxytocin, which is both released into the bloodstream and stored in the brain. This hormone performs a number of different physiological functions, including reducing stress levels, lowering blood pressure, increasing pain tolerance, and boosting mood.
One study funded by NIH discovered that a weekly 1-hour Swedish massage helped with knee pain from osteoarthritis, and another study showed that massage helps people manage lower back pain.
Dr. Tiffany Field, who leads a touch institute at the University of Miami Medical School, has been doing studies on massage for pregnant women and infants. Her research has shown that massage relaxes the nervous system by reducing heart rates and pain, helping the immune system to function better.
Massage for Elders
Too many seniors are missing out on the benefits of touch.
Geriatric massage is noninvasive, medication-free, and gentle. It involves a combination of stroking and kneading, and it may also include the application of light pressure on specific points. Massage therapists who specialize in treating seniors may also use stretching techniques to strengthen muscles and improve range of motion.
In older people, massage has been linked to improved blood flow and immunity, reducing blood pressure and accelerating the healing process. It has also been shown to help seniors suffering from chronic pain, such as arthritis. In fact, massage therapy can positively affect nearly every one of the body's systems.
If your aging loved one suffers from sleep problems, meanwhile, massage offers yet another benefit. According to the American Massage Therapy Association (AMTA), massage can improve both the quality and quantity of sleep in the elderly. It also benefits people experiencing debilitating chronic conditions such as cancer, migraines, and lower back pain.
Research further suggests that massage has therapeutic benefits for Alzheimer's patients because it promotes relaxation and facilitates communication.
Give Massage a Try
It's always a good idea to reach out and touch our loved ones, even if it's just a hug or holding hands. Or you can offer a simple hand or foot rub. Professional massage does not meet the same need as being touched by a loved one.
But professional massage therapists are also an option, especially when seniors aging in place are facing sleep issues, dementia, chronic pain, or other health issues.
Connecting your aging loved one with a professional who does geriatric massage can make a big difference in their quality of life.