Social isolation and poor nutrition unfortunately go hand in hand for many seniors. There's no better time to shine the spotlight on this subject than on "National Eat With a Friend Day," celebrated every November 25th. Let's take a closer look at why it's particularly important for seniors to have opportunities for social eating, along with ways to help your aging loved one find more joy in eating -- and in life! -- through shared meals with friends, family, and fellow community members.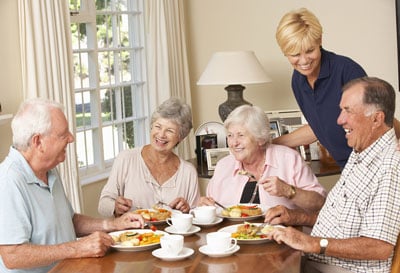 Social eating can help seniors enjoy longer, more fulfilling lives.
Seniors, Eating, and Isolation
An abundance of research links social interactions with senior wellbeing. One area where the impact of isolation can be particularly destructive to senior health? Eating.
Not only does nutrition play a critical role in fostering healthy aging in seniors, but lack of proper nutrition can have serious consequences, according to research from the University of Cambridge. Just how important a role does social eating play in senior wellness? One study reveals that single adults over the age of 50 ate 2.3 fewer vegetables every day than peers who were in partnerships. These same people were also at increased risk for developing diabetes.
All in all, the more isolated seniors are, the less likely they are to eat healthy, nutritious, and varied diets. Unfortunately, the implications of eating for one can be huge, and may include everything from weight loss to decreased immune function. The combination of isolation and eating has even been linked to increased incidences of avoidable death.
Encouraging Social Eating
There are some things caregivers can do to help their aging loved ones simultaneously improve their nutrition while deriving the benefits of socialization, including the following techniques:
If your aging loved one lives in a senior living community, encourage him to take meals in the dining hall as opposed to in his room.
If your aging loved one lives independently, look into congregate meals offered by senior centers, churches, and other organizations, and encourage your aging loved one to participate. Many adult day care centers also offer healthy meals for adults with a side dish of companionship.
Take advantage of meal delivery services for seniors, such as Meals on Wheels. In many cases, regular contact with the volunteer who delivers the food is just as vital as the food itself.
If possible, schedule regular meals with your aging loved one. (Long-distance caregivers can enlist another family member, neighbor or friend to step in and share meals in their absence.)
Identify area "hang-outs" where solo seniors regularly congregate for meals or even coffee. Even eating alone in the company of others can help stave off feelings of isolation.
Identify and treat any impediments to social eating which may be keeping your aging loved one from participating in group meals. This can include anything from transportation and mobility issues to dental problems and financial concerns.
Helping your aging loved one enjoy a fulfilling quality of life is critical to his emotional and physical well-being, and encouraging social eating is a significant part of the equation for many older adults. Unfortunately, senior isolation continues to be a very real problem which is only compounded by a lack of opportunities for social eating. This year on "National Eat With a Friend Day," why not spend a few minutes thinking about ways to help seniors in your life enjoy as many meals as possible in a social atmosphere? While you're at it -- why not go ahead and schedule a lunch date this November 25th with your favorite aging loved one?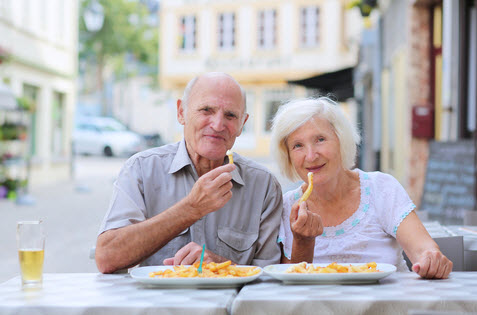 Even a single shared meal goes a long way toward offsetting isolation.
mmLearn.org offers a large library of free videos for caregivers of older adults, covering topics pertaining to senior care. Whether you are a healthcare professional or a family caregiver, if you are caring for an older adult we know that you will find mmLearn.org an essential learning and guidance tool for all of your caregiver training needs. For more useful content for caregivers, access our database of free online caregiver videos today.