The word "bully" usually brings to mind thoughts of behaviors found on elementary school playgrounds and on the back of the bus. However, bullying doesn't necessarily end when childhood does. In fact, it can continue throughout life and even into the senior years. Let's take a closer look at the problem of senior bullying, along with management tips for seniors and caregivers.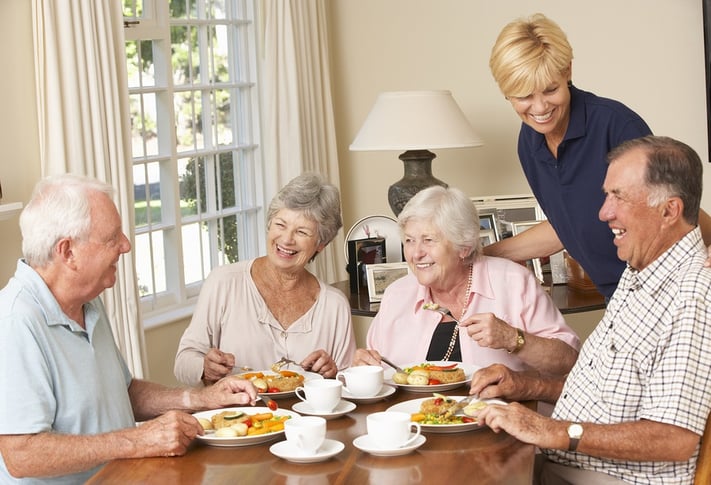 Senior living can be a wonderful way to connect as long as bullying is kept at bay.
What Is Bullying?
Bullying is defined by StopBullying.gov as "unwanted, aggressive behavior among school-aged children that involves a real or perceived power imbalance. The behavior is repeated, or has the potential to be repeated, over time. Bullying includes actions such as making threats, spreading rumors, attacking someone physically or verbally, and excluding someone from a group on purpose."
While the definition above speaks directly to the experience of children, seniors are equally vulnerable to being victimized by bullying behavior. In assisted living facilities, in particular, seniors are largely dependent on others. Not to mention that people already struggling with issues ranging from chronic health problems to loss of independence are at risk of low self-esteem which makes them easy targets for predators. However, seniors can also be bullied in their homes by anyone from family members to neighbors.
Recognizing Senior Bullying
You may be familiar with the issue of elder abuse, which is defined by the Administration on Aging as "any knowing, intentional, or negligent act by a caregiver or any other person that causes harm or a serious risk of harm to a vulnerable adult."
While mistreatment by faculty and staff may take center stage in conversations about elder abuse, as many as one out of every five senior living residents suffers some form of mistreatment by their peers. And as the baby boomers continue to age into retirement and the need for senior housing grows, so will incidences of senior bullying.
Just as childhood bullies use perceived strength to intimidate others, so do elder bullies. In fact, many elder bullies have been bullies for their entire lives. Unfortunately, these behaviors can become even more prominent later in life within a controlled setting in which they themselves might suddenly feel powerless. Other people may develop destructive bullying behaviors as an adjustment mechanism during times of transition.
Common forms of senior bullying include gossiping, name-calling, bossy behavior, and invading personal space. As with kids, many of these interactions happen in common areas, such as the dining hall. If left unchecked, bullying behaviors can vastly impact your aging loved one's quality of life.
Coping With Senior Bullying
Many communities now offer "codes of conduct" which address bullying behaviors by promoting an environment of respect and consideration. Caregivers are advised to ask about peer on peer bullying policies when researching senior living communities. Facilities that set clear expectations and follow up on inappropriate behaviors create cultures in which bullying is not tolerated.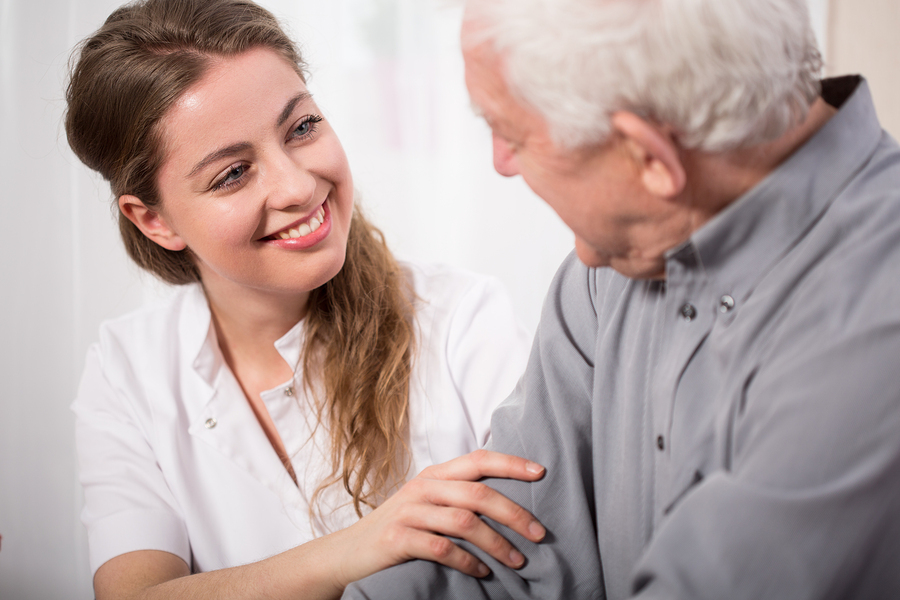 Caregivers can play a critical role in preventing senior bullying.
If your aging loved one is dealing with a bullying problem, ignoring is typically regarded as the best strategy. Why? Because bullies gain power from conflict.
If the behavior continues, however, it's important to let a staff member or administrator know. Otherwise, the situation may escalate. The National Council of Certified Dementia Practitioners also offers a number of resources for dealing with elder bullying.
While bullying can quickly turn a home into a hostile environment, caregivers can play a vital role in preventing bullying and creating safer, happier living spaces for seniors. Mmlearn.org offers a large library of free videos for caregivers of older adults, covering topics pertaining to senior care. Whether you are a healthcare professional or a family caregiver, if you are caring for an older adult we know that you will find mmlearn.org an essential learning and guidance tool for all of your caregiver training needs. For more useful information for seniors and the people who care for them on elder abuse topics and more, access our database of free online caregiver videos.